Kolkata Chicken Chaap Recipe is essentially slow-cooked chicken leg that is marinated overnight, for the chicken to take in all the flavors. It is then cooked in a rich & luscious onion, ginger-garlic, cashews, and poppy seeds gravy.
It is a dish from Mughal cuisine that requires slow roasting of the chicken in ghee slathered with a rich marinade consisting of cashew nuts, melon seeds, and poppy seeds among others.
Chicken Chaap is a Classic Delight for Indian food lovers. This unique combination of juicy and moist chicken pieces and rich and thick gravy. Any Indian festival will go dull if it doesn't include Biryani and Chaap on its menu.
You can easily prepare this Kolkata restaurant-style popular Bengali chicken chaap recipe at home. You need a little patience while making this recipe as his recipe requires a bit longer time to prepare, marinate, and cook.
Ingredients For chicken chaap
3

 

pc

 

chicken legs ( 500g )

3/4 cup Curd/Yogurt

1 tsp Grated ginger

1½ tsp Crushed garlic

2 

Bay leaves (tej patta)

1 

Dry Red Chilli

1-inch

Cinnamon Stick (Dalchini)

2 Medium-Sized Onions
2 teaspoon 

Red Chilli powder

1 teaspoon 

Turmeric powder (Haldi)

1 teaspoon 

Garam masala powder

3 tablespoons 

Poppy seeds

Kewra Water

, a few drops

Ghee

, or butter as required for cooking

Salt

, to taste
1 pinch 

Sugar
Instructions For Chicken Chaap
Preparation:
Wash and clean the chicken pieces and pat them dry with a kitchen cloth.
Soak the poppy seed in 1/5 cup warm water for 30 mins, covered. Drain the water and make a fine paste of it. Keep it aside for later use.
In a large mixing bowl, whisk together the curd, ginger, garlic, red chili powder, garam masala powder, a touch of salt, and a pinch of sugar with a hand whisk or a fork until evenly blended.
Pour this marinade all over the chicken, and mix well.
Add a spoonful of ghee to it and coat the chicken, this will keep the chicken soft and juicy after being cooked.
Allow it to rest for 4 hrs – 6 hrs in the refrigerator. You can marinate the chicken overnight to get the best results when the recipe is done.
Remove the chicken and let it come to room temperature.
In a wide Kadai or handi add about 2 tablespoons of ghee on medium heat.
Once the ghee is hot, temper with bay leaf, whole red chili, and cinnamon stick and stir for a little while.
Now shake off all marinade and add chicken pieces into the hot oil. Fry them on medium heat.
Slow cook for about 15- 20 minutes flipping the legs from time to time. Don't let the chicken pieces turn brown.
Once the leg is almost cooked, add the remaining marinade and cook for about 10 more minutes for all the raw smell of onion ginger garlic to disappear.
Add poppy seed paste and mix well so that all pieces get coated with the paste.
Cook for another 20-30 minutes and till the spices are dried and the dish comes together and smells divine. Add 1 or 2 drops of kewra water, stir and switch off.
If your gravy has dried up and the chicken is still undone sprinkle some warm water in between. And if the chicken is done and it is watery increase the flame to evaporate.
Now Kolkata restaurant-style chicken chaap is ready to serve.
Serving Suggestions
Serve Kolkata Chicken Chaap Recipe (Slow Cooked Marinated Chicken Legs) with Mutton Biryani Recipe and Tomato Onion Cucumber Raita Recipe for a complete meal.
You can also serve chicken chaap with paratha. Chicken chaap, which is rich, flavorful, and spicy, is also served with naan, pulao, or rumali roti.
I served it with Kolkata Style Mutton Biryani along with raita and salad.
Tips and variation
Burn the mustard oil properly before proceeding to make the recipe if you are using mustard oil.
Keep the rest of the dry roasted and powdered chaap masala in an airtight container for further use.
If you are using large pieces of chicken, then you must slit the chicken pieces. As a result, the chicken pieces will cook rapidly and easily absorb the masala.
Adjust salt and chili powder as per taste.
Sugar is optional, however, balances the flavors.
Nutrition
| | |
| --- | --- |
| Calories | 603kcal |
| Carbohydrates | 23.3gm |
| proteins | 82.5g |
| sodium | 286mg |
| potassium | 336mg |
| sugar | 13.5g |
| Vitamin A | 1045IU |
| Vitamin C | 15mg |
| Fat | 17.5g |
| Iron | 1.3mg |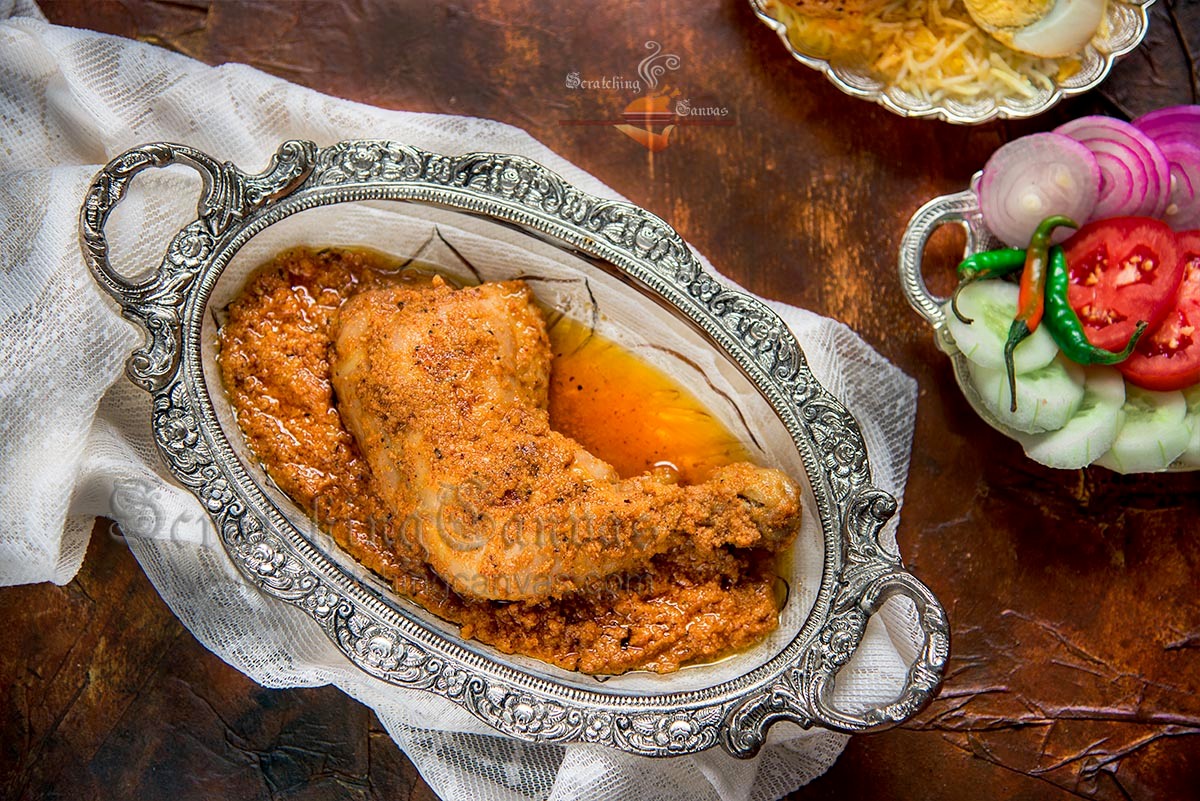 Also read: Pav Bhaji (step by step)